my skill set
LOGO/icon DESIGN
ETH LOGOS
eNTER THE DUNGEON X DARK SOULS
Ganondorf - The Legend of zelda: twilight princess
MIDNA - THE LEGEND OF ZELDA: TWILIGHT PRINCESS
Dark SOULS pixel art
Gravelord Nito
The Pursuer
PIXEL VAMPIRE
I was trying to animate something that's a bit more fluent so I started drawing a girl which turned into a vampire... I liked it a lot and figured I would try to animate her starting with her eyes, then eyebrows and in the end her mouth + chin. I'm very happy with how it turned out!
pixel sprites - the elemental golums
I was quite interested in trying to animate characters that I made on my own. The first problem was that I had no clue what to animate exactly but eventually I made the earth golem and decided to make more elemental versions of them. So far, the ice one was the hardest because trying to make it look like ice was a pretty hard challenge for me as I have never done something like this before. However, I am very pleased with the results so far and will absolutely try to make more.
pixel art environment
whispering trees
moonlight genesis
the dead woods
vineyard street
pixel brothers project
Rick & Morty pixel art
Portraits based on a popular show from Adult Swim called Rick & Morty.
the fruit project
The fruit project was a part of a college assignment where we had a few weeks to come up with something creative. My idea was to take fruit pieces and create dramatic characters out of them with very extreme facial expressions. I already created a logo for this and a website as well but I was not very happy with the result of the website so I am only showing the fruit pieces and logo I have made.
The awesomenauts project
This project was a school project where I decided to take the game called Awesomenauts from Ronimo and create Halloween skins for existing characters. It took me quite a while to figure out how I would do it but after making around 10 sketches per character, I found out which I liked the most and went ahead and illustrate them in Adobe Illustrator. One of them was a completely new one inspired by an acappella singer who sings every character theme song.
symmetry line art
I was trying out some line art by drawing exactly half of the faces you see below and mirroring them in the end. For some reason this was a bit harder than it seems because if you don't test the other half mid way through, you will realize your perspective of half a face is completely off. Needless to say this was a funny thing to try and might make more in the future.
joe jeremiah - Me and my friends
One of these small pixel portraits were based on a guy called Joe Jeremiah who makes music in style of 8-bit. The second one is a small portrait I made of me and several people I went to school with. The third one is a close friend of mine who I decided to draw and animate for no specific reason... but it was fun!
OTher things I have made
Powered by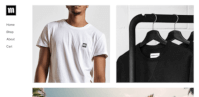 Create your own unique website with customizable templates.