So there was this thread about HD textures being to mainstream on reddit

here

and I commented on it as a joke saying;

''Wait, people make HD texture mods? Sounds silly. Also, this looks pretty cool. Is it really going to be a mod?''


And after a few downvotes a guy said;

''There's a guy actually vectorizing all the graphics right now, and it looks really good''


I need to stop making jokes like these but I couldn't help laugh a bit haha.
Powered by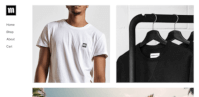 Create your own unique website with customizable templates.